WELCOME TO NAXOS OLIVE & HOME
Perfect Stay
Νaxos Olive & Home is located in the rich plain of Eggares next to the olive museum in an olive grove full of nature, where you can enjoy your breakfast  and also the serenity of the landscape.
It is only 6 kilometres away from Naxos. There are mini markets and traditional taverns a few meters away from our property. Naxos Olive & home provides free Wi-Fi in all areas. All apartments are supplied with air conditioning, TV, kitchenette with oven, hotplates, coffee maker and kettle.
There is a beautiful view to the garden and to the Plain of Eggares from all the balconies. In a distance of 2 kilometres the Ammiti beach is a quiet, unspoiled beach wihout any interference which will amaze you.
Naxos Olive & Home was created with a lot of love and we hope your stay will be unforgettable !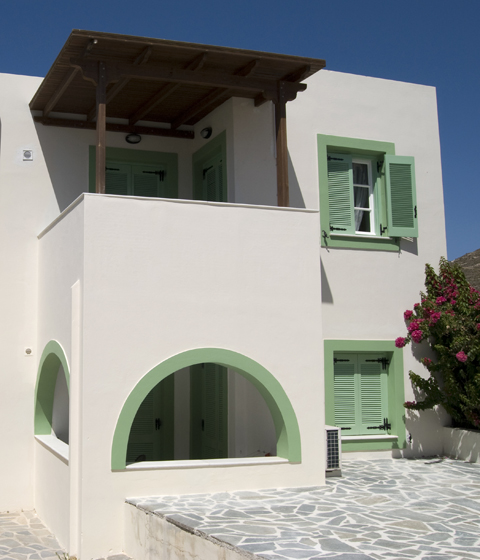 AVAILABLE APARTMENTS
Accommodations
«When we arrived after many hours of an exhausting journey and entered the grounds of the "Olive and Homes", a place of peace and quiet surprised us. Our appartment was big and bright with nice simple furniture. The large terrace offered wonderful views of the surrounding countryside and the mountains. The sea is not to be seen, but there is a lonely beach only about 2 km away. The apartment was very clean and remained so because it was cleaned unusually often.
The next morning after our arrival we enjoyed our first breakfast in a beautiful olive garden. Since then we have fallen in love with the "Olives and Homes". The owner lovingly prepares a different breakfast every morning, which is more like a "brunch" and is so rich that a further meal is not possible before the evening.
She fulfils every wish before you even say it and is one of the most hospitable people we know. We say thank you to her for 2 weeks for an unforgettable accommodation in Summer 2020.»
Heike and Holger, Germany
ΗΔΗ ΕΧΟΥΝ ΠΕΡΑΣΕΙ 3 ΜΕΡΕΣ ΚΑΙ ΜΑΣ ΛΕΙΠΕΤΕ ΠΟΛΥ. ΤΙ ΝΑ ΠΡΩΤΟΘΥΜΗΘΟΥΜΕ? ΤΗ ΝΑΞΟ ΛΙΤΗ, ΛΑΜΠΕΡΗ ΚΑΙ ΑΡΧΟΝΤΙΚΗ ΑΓΚΑΛΙΑ ΜΕ ΤΙΣ ΥΠΕΡΟΧΕΣ ΘΑΛΑΣΣΕΣ ,ΤΗΝ ΘΕΡΜΗ ΚΑΙ ΑΠΛΟΧΕΡΗ ΦΙΛΟΞΕΝΙΑ ΣΑΣ ΣΤΟ ΕΥΡΥΧΩΡΟ ,ΣΥΓΧΡΟΝΟ ΚΑΙ ΠΕΝΤΑΚΑΘΑΡΟ ΣΥΓΚΡΟΤΗΜΑ ΣΑΣ ΜΕΣΑ ΣΤΟΝ ΕΛΑΙΩΝΑ ΚΑΙ ΤΑ ΡΥΑΚΙΑ ΝΕΡΟΥ ΠΟΥ ΣΕ ΧΑΛΑΡΩΝΟΥΝ ,ΤΟ ΠΛΟΥΣΙΟ ΚΑΙ ΓΕΥΣΤΙΚΟΤΑΤΟ ΠΡΩΙΝΟ ΤΗΣ ΓΡΗΓΟΡΙΑΣ ΜΕ ΠΡΟΙΟΝΤΑ ΑΠΟ ΤΟ ΠΕΡΙΒΟΛΙ ΤΗΣ,ΤΟ ΓΑΡΓΑΡΟ ΧΑΜΟΓΕΛΟ ΤΗΣ ΙΔΙΑΣ ΚΑΙ ΤΩΝ ΠΑΙΔΙΩΝ ΤΗΣ, ΤΗΝ ΑΨΟΓΗ ΕΞΥΠΗΡΕΤΗΣΗ ΑΠΟ ΟΛΗ ΤΗΝ ΟΙΚΟΓΕΝΕΙΑ? ΤΙ ΝΑ ΠΡΩΤΟΘΥΜΗΘΟΥΜΕ? ΣΑΣ ΕΥΧΑΡΙΣΤΟΥΜΕ ΠΟΛΥ ΓΙΑ ΤΙΣ ΥΠΕΡΟΧΕΣ ΔΙΑΚΟΠΕΣ ΠΟΥ ΜΑΣ ΧΑΡΙΣΑΤΕ.
ΕΥΗ & ΚΩΣΤΑΣ , ΕΛΛΑΔΑ